Although Ibiza is an island renowned for partying, we know that there is so much more to our beautiful island! Over recent years our little island has become a gastronomic hotspot worldwide due to the emergence of new and edgy restaurants as well as the fantastic local spots. Both new and old, this culinary magic hasn't appeared from nothing, the White Isle produces the best of the best from nibbles to liquor and condiments. Read on to find out about the lovely local produce and what you can do with it…
ALMONDS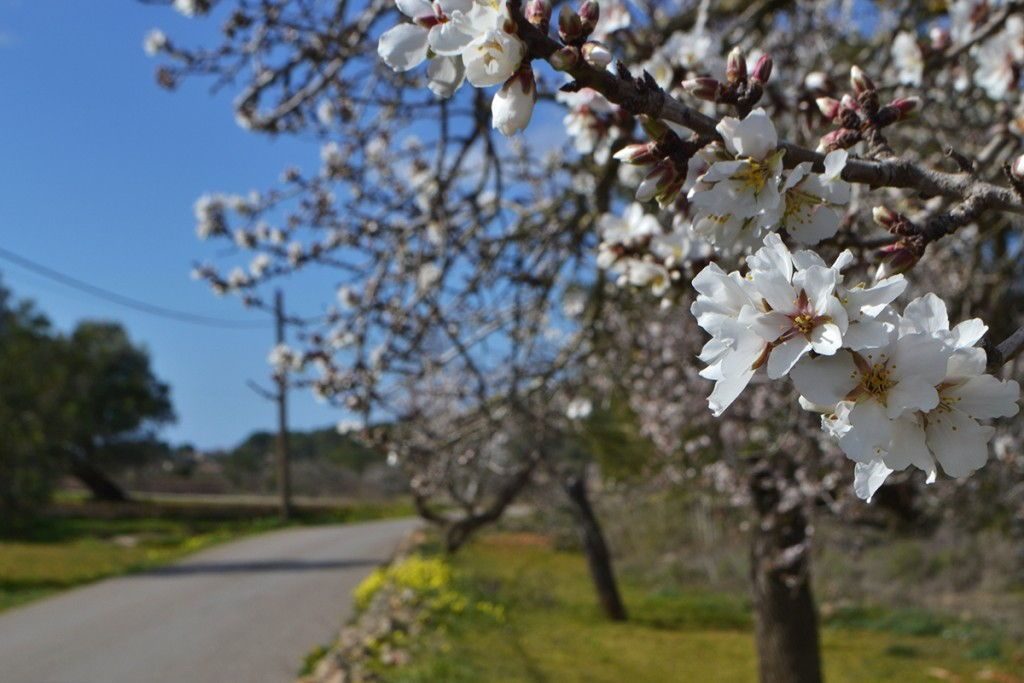 Amazing almonds! As well as being totally delicious, the almond groves in ibiza are a sight to behold. We would highly recommend visiting on the full moon in Easter for a leisurely nighttime stroll as the gorgeous white petals reflect the moon's light and illuminate the valley, magical. For a yummy recipe using these little gems, spread the nuts on a baking tray and roast for 15 mins, then tip the hot nuts into a bowl and toss with the butter, salt and paprika to taste, until coated and finally cool for a few minutes – happy tasting!
HIERBAS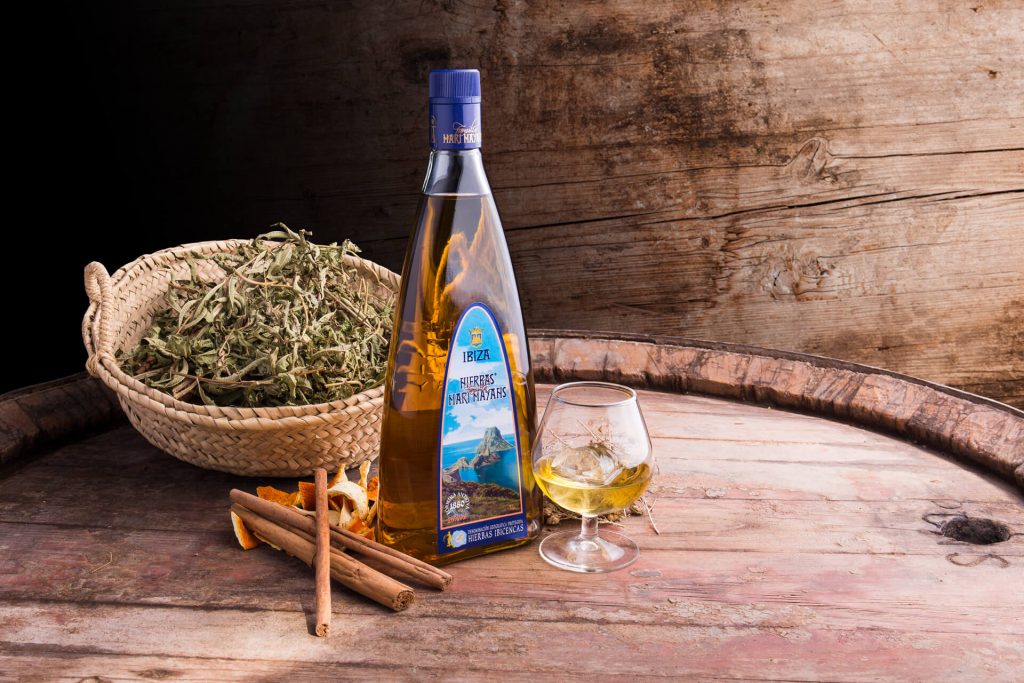 Hierbas, the classic Ibizenque liquor. Born on the unique terrain of the Ibiza and Formentera countryside, the  rich diversity of minerals and moisture in these incredible places lends a special 'aromatic excellence' to this drink. Hierbas encapsulates the traditions of the Balearics, to be enjoyed in a wine or shot glass – and in good company – to finish off a lunch or dinner. Although being the most popular shot on the Island, we would also recommend it in a cocktail with ginger ale and mint, especially whilst watching the sunset…
OLIVES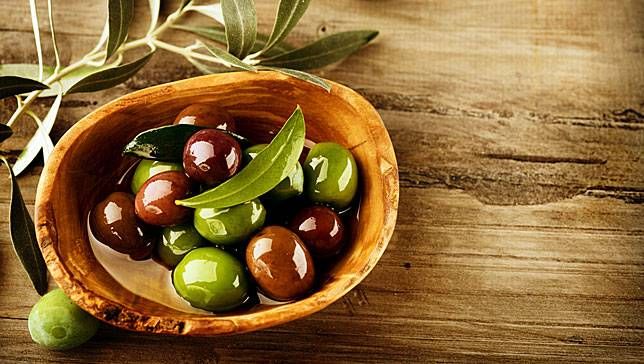 Perhaps what Ibiza is most famous for, our olives are known as the islands 'liquid gold'. To be seen all over the island, we love walking around the rich groves of ancient knotted trees with their roots firmly stuck into deep red soil. These roots of these tree's extend further than just the soil they lie in but into the core of the Ibizan culture. The moderate climate and sea breezes not only make this the perfect place for us but also for the wide array of different olives grown. We would recommend making a very typical and easy breakfast dish consisting of toast with freshly chopped tomato and drizzled with a tasty olive oil, perhaps the Can Vicente March, or an olive tapenade.
SOBRASADA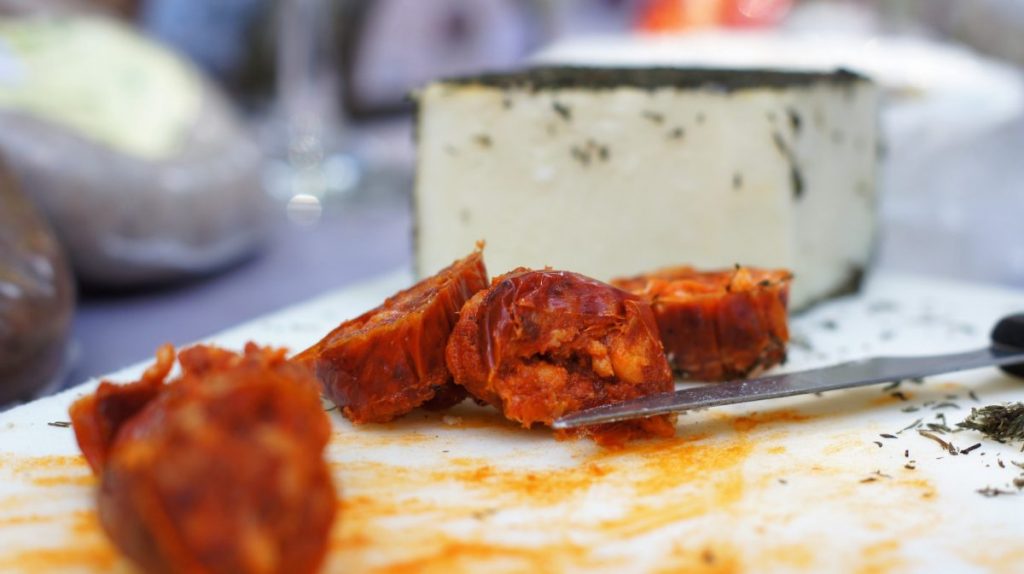 Sobrasada has long been associated with the culinary scene of the Island. Typically sobrasada is a cured sausage made with ground pork, paprika, salt and other secret spices. This spicy sausage is a Balearic specialty and can be found in any local spot in sandwiches to tapas boards. Although easily found in most markets and supermarkets, we would particularly recommend the sobrasada of Sabors d'Eivissa in a typical Spanish tortilla with Mahon cheese and honey. It is also delicious in a decadent croquette recipe, encased in a manchego breadcrumb coating.
SEAFOOD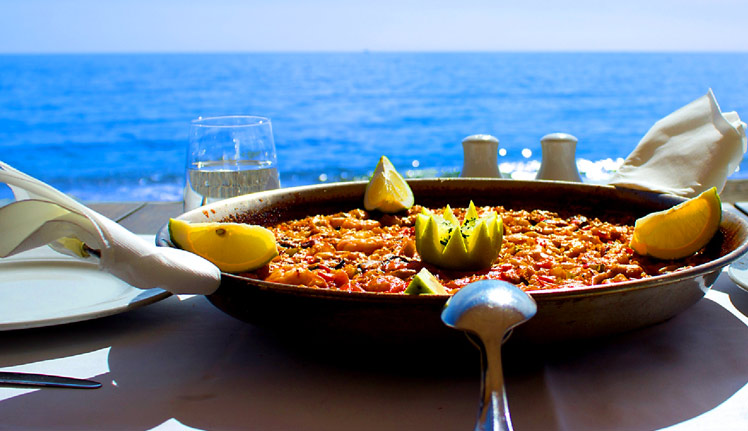 Being an island, the fishing culture is a big part of the gastronomic scene on Ibiza. Ranging from calamari and shrimp to lobster and Roan, there is almost too much choice. We would recommend the paella at Es Boldado, outlooking onto the iconic Es Vedra, it's to die for! If you're wanting to cook at home, we love creating the delicacy that is fried octopus. Add onion, garlic, red pepper and cooked potato to the octopus, the mix of flavours is truly authentic and guaranteed to impress any guest.
SALT
Near Salinas lie the giant mountains of salt that can be seen from the sunny sky. Made from 100% natural sea salt, we're proud to be home to the massively successful brand that is Sal de Ibiza. With its gorgeous branding, Sal de Ibiza is the perfect gift to bring back from a trip to the White Isle and with their array of different products ranging from chocolate to chips, there is no shortage of options. We are in love with their Fleur de Sal gourmet sea salt and in terms of a recipe, a sprinkle of this on any meal is always a good idea!
HONEY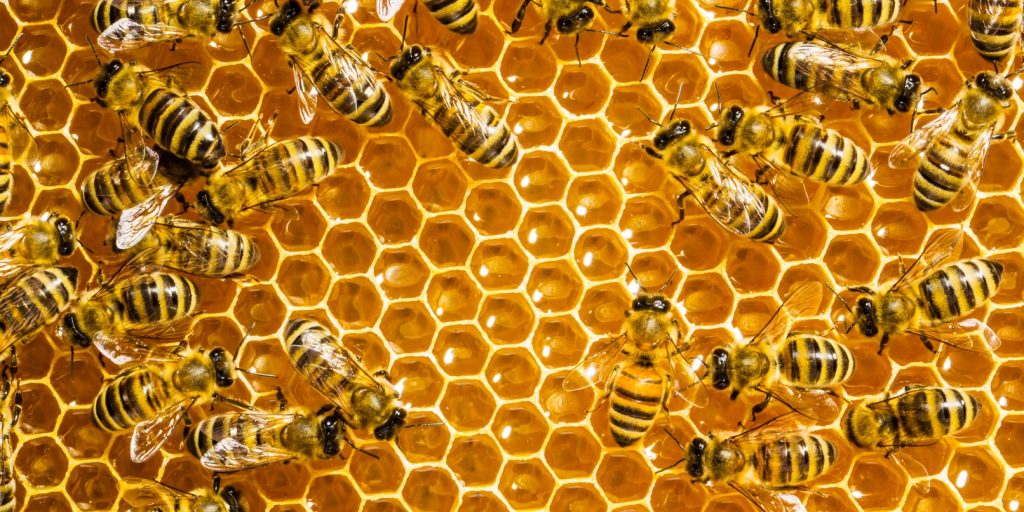 It must be said that the honey culture on the Island is more focussed around that of healthy and beauty than of consumption. There are various products such as 'Ibiza Honey' that make cosmetic products such as a range of creams and moisturisers. We love these luxury products but we also love the sweet taste of local honey and so would recommend a simple dish, consisting of fired eggplant coated in honey with a sprinkling of almonds – delicious!