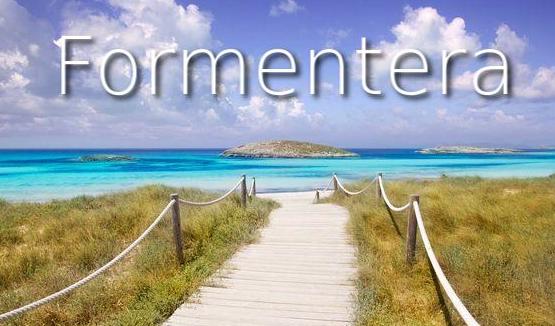 Sunglasses perched on nose, you take a mental panoramic of tiffany blue waters and cotton white sands. Then, after a long and lazy stretch (stemming from your hippy, jewel clad fingers to your freshly painted toes) you ponder which fresh fish you might have for lunch this afternoon.
This is the only decision you make all day.
Introducing Formentera, Ibiza's laid back-horizontal, trendy little sister.
Breathtakingly stunning and effortlessly cool, we're just dying for you to meet her, and here are our top 5 reasons why you absolutely should…
Her beauty
An island so gorgeous, not even a local will judge you for taking that tenth selfie in the crystal clear shallows. Our favorite beaches include Illetes, llevant and Saona, whose waters all form part of a UNESCO world heritage sight thanks to the splendid sea plant Posedonia. Vital to the ecosystem, Posedonia purifies the water, leaving it Caribbean clean for (possibly) some of the best afternoon swims you will ever have.
Her energy
As the many Italians who visit the island would say, there is no better place than Formentera to adopt the 'il dolce fare niente' attitude; in other words 'The sweetness of doing nothing!' A world away from the madness of Ibiza, this bohemian little corner of the Mediterranean lets you feel the wind in your hair whilst even the waiters serve you bare feet.
Her cooking
Whether it's celeb spotting at Juan y Andrea, dancing on the tables at Beso, or dining under the stars (or at least twinkling fairy lights!) at Can Dani, Formentera is quickly becoming a foodie mecca. With freshly caught fish and paellas so huge they even make our ex-6ft intern Jurij look small, you won't be coming back hungry, trust us!
Her hospitality
From to-die-for rustic villas to simple, yet beautiful hotels, even amidst strict planning laws there really are some absolute gems to be found on the island. Why not let us help you find your escapist's paradise within one of Formentera's pretty little white washed villages?
Her shopping addiction
Where the Balearic's treasure troves are really hidden! Formentera is home to a dozen boutiques that will have you wishing you hadn't packed so much in the first place. For one-of-a-kind souvenirs we recommend the second hand market of Sant Francesc, along with the weekly artisan stalls found in El Pilar de la Mola.
With an allure that charms even the most stunning corners of the Caribbean, we challenge you not to fall weak at the knees for the lovely Formentera. Better yet, why not make this Balearic beauty the destination, rather than the day trip? Ibiza will never know, promise!