We are so excited to share our new wedding blog with all of you brides-to-be out there! For those of you who don't know us, we are Deliciously Sorted Ibiza, experts in concierge, exclusive events and weddings on the white island. We have been operating here for 12 years now, and we have a multilingual team of 15 wonderful individuals who are all dedicated to making your holiday, event or wedding a dream come true!
Now, before we start talking about what colour scheme you should be considering for 2014, the best DJs to get the party pumping, or our top ten cocktails you must-try, we'd like to reminisce for just a moment. 2013 was such a great year, and a fantastic summer! We had a manic month in June with double bookings on some weekends, and a really busy July and August. Here are some of our favourite moments from the past summer:
Family Style
This wedding was our first event of the season. It was held at a stunning villa in the north of the island, up in the hills around Portinatx. The bride and groom had ordered tons of cute gifts for their guests in their colour scheme aqua. Personalised towels, flip flops and beautiful parasols and fans to help guests cool down during the hot June days! They had tons of delicious food including chargrilled fillet of beef with salt and black pepper, Piri Piri chicken-breast of chicken fillets marinated in chilli lime, and tomato, grilled fillet of sea bass marinated in olive oil and thyme and shrimp skewers served family style as their main course.
Cicale and Wild Flowers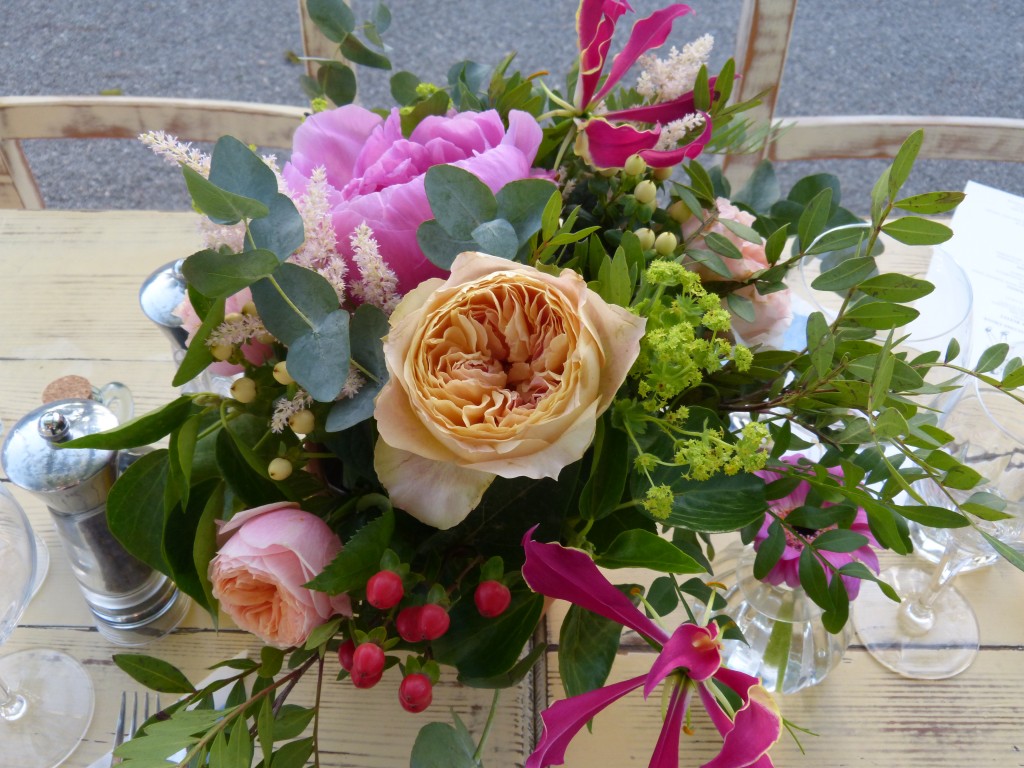 This wedding took place on one of our double booked weekends. The couple held their ceremony at one of our stunning villas Can Jaida, with Anna Brooks performing the ceremony (she's the best!). The guests then went on to Cicale for the dinner and dancing. Needless to say, this is one of our favourite Italian restaurants on the island and it was so perfect for this wedding. The couple had wild flower arrangements both at the ceremony and as the table centrepieces. We love this style and we definitely think it will continue in 2014.
Beso and the Cala Millor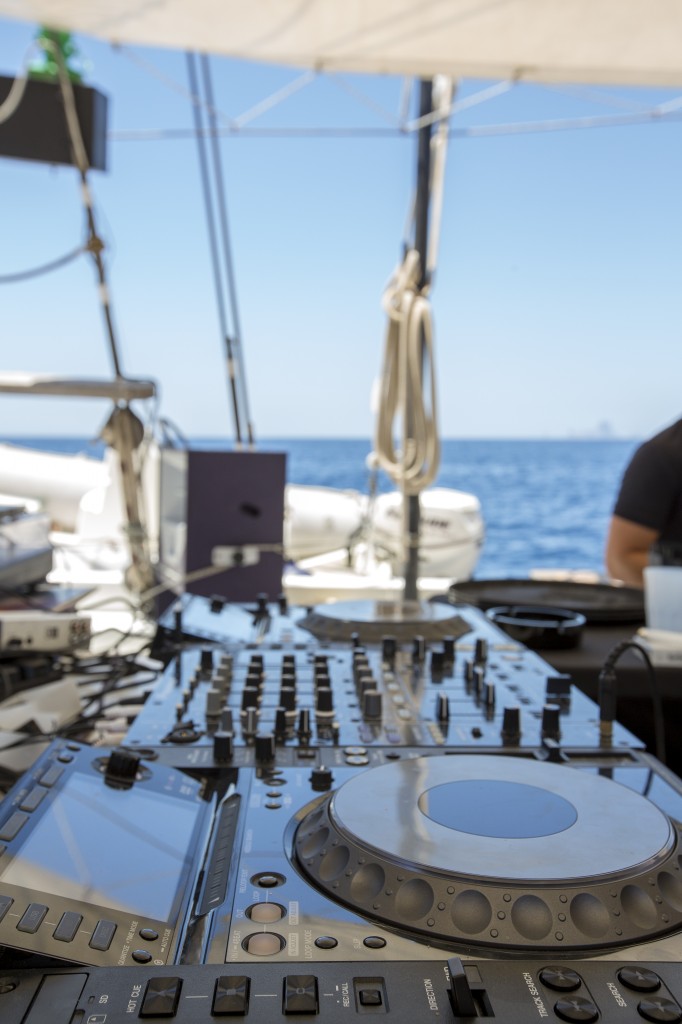 We love boat parties! There are some great boats in Ibiza for events and the Cala Millor one is definitely a favourite. Our bar team was busy throughout the day serving Pol Roger Champagne on the way to Formentera, and their deliciously refreshing cocktails on the way back. The guests stopped at Beso Beach for lunch, we can't rave about this place enough! Their paellas are fantastic and the venue is so cute – very shabby chic.
Neon!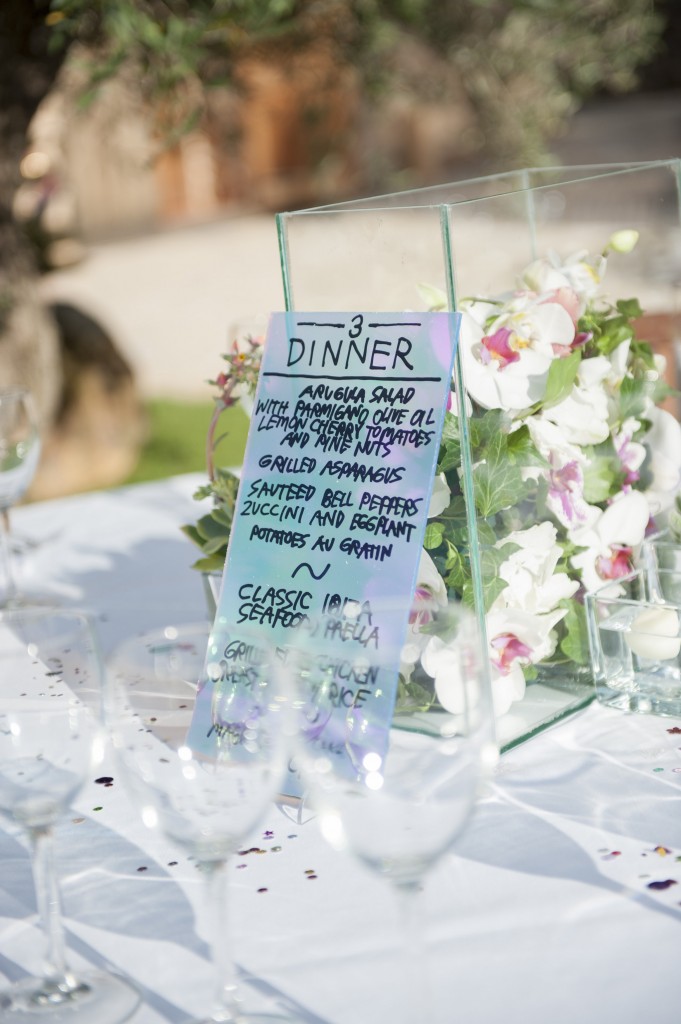 We loved organising this young and funky wedding. The colour scheme was neon and there were flowers and sparkles spread everywhere. The centrepieces were stunning with a square crystal vase filled with tons of little flowers in white, green and (you guessed it) neon! On the sides were smaller square vases with succulents for a very modern touch and floating candles. This country villa served as a perfect mix between modern and traditional for this small intimate wedding.
Saturday Night Fever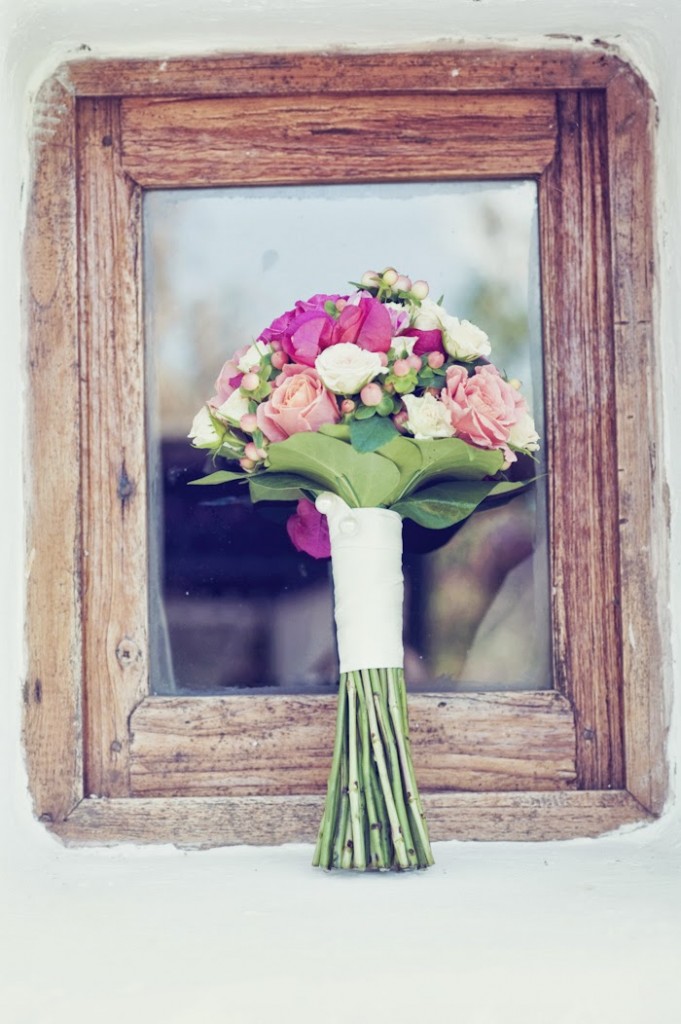 This brides biggest wish was to have the disco floor from Saturday Night Fever for the party portion of the wedding. Held in one of our favourite agroturismos, Atzaro, the decorations were beautiful with soft white roses in the ceremony area, and pops of colours in the bouquets and table centrepieces. As the bride was a chef, the food was carefully selected, and needless to say – absolutely delicious. After dinner the party area had been turned into a 1970's nightclub with spinning disco balls and flashing lights.
Tagomago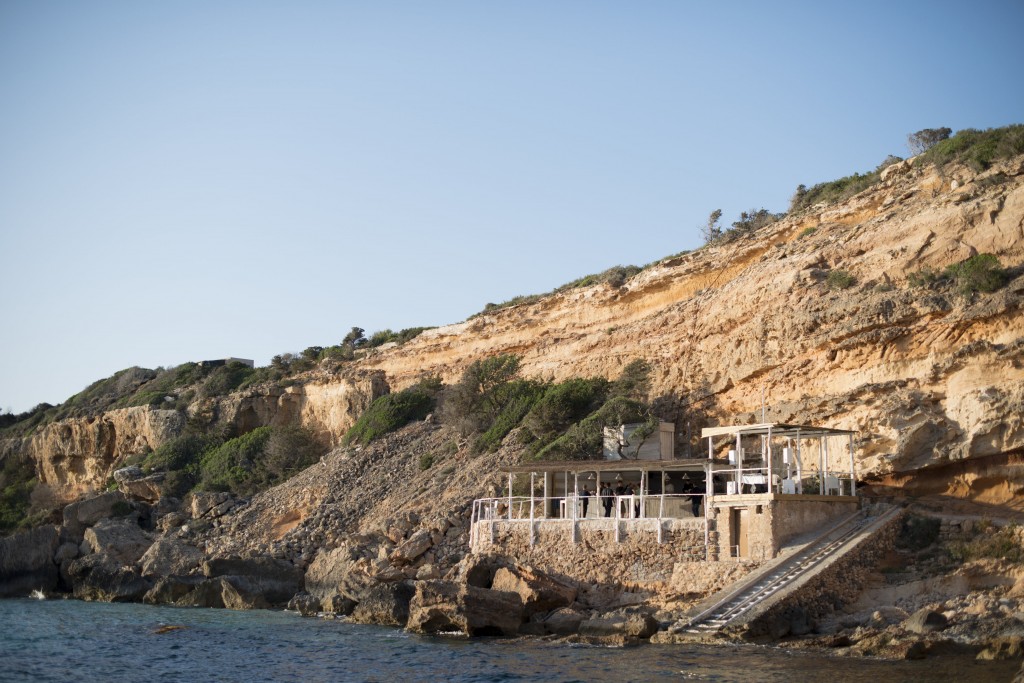 This island is magical! Completely private, off the coast of Ibiza, it sports a super cute little chiringuito as you first arrive, and a stunning modern villa as you reach the top. Guests came from all over the world to attend this wedding, and it was one of the biggest parties of the summer! Michelin-star chef Massimo Riccioli was in charge of the food, and it was one of our most exciting menus of the summer: Grilled octopus salad with avocado and crispy banana and saute of small squid with peas and spring onion to start. Followed by: Spaghetti with lemon red shrimp sauce and toasted breadcrumbs and roasted red tiger prawns salad with crunchy tomatoes, potatoes and variations of onions. Yum!
Butterflies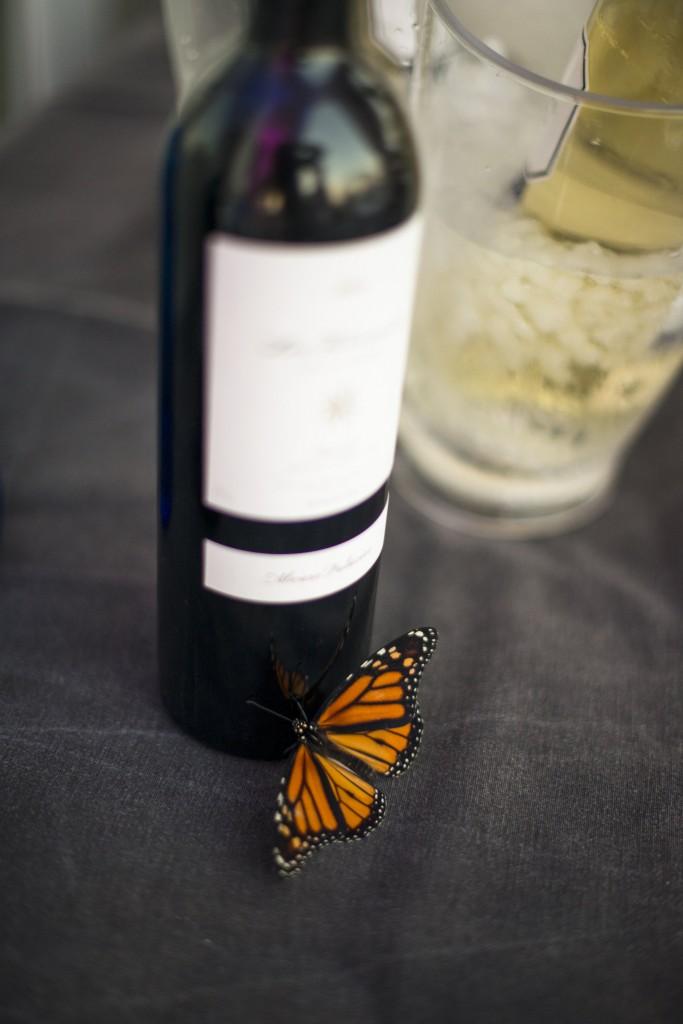 New on Ibiza last summer were these beautiful Monarch butterflies. We used them for one of our August weddings, held at a villa right in front of Es Vedra, the ceremony was absolutely stunning. There are tons of little rituals and things that you can add into your ceremony to make it just that extra bit special. Include your moms, daughters, or anyone else that deserves to have a small part in your special day.
Surprise!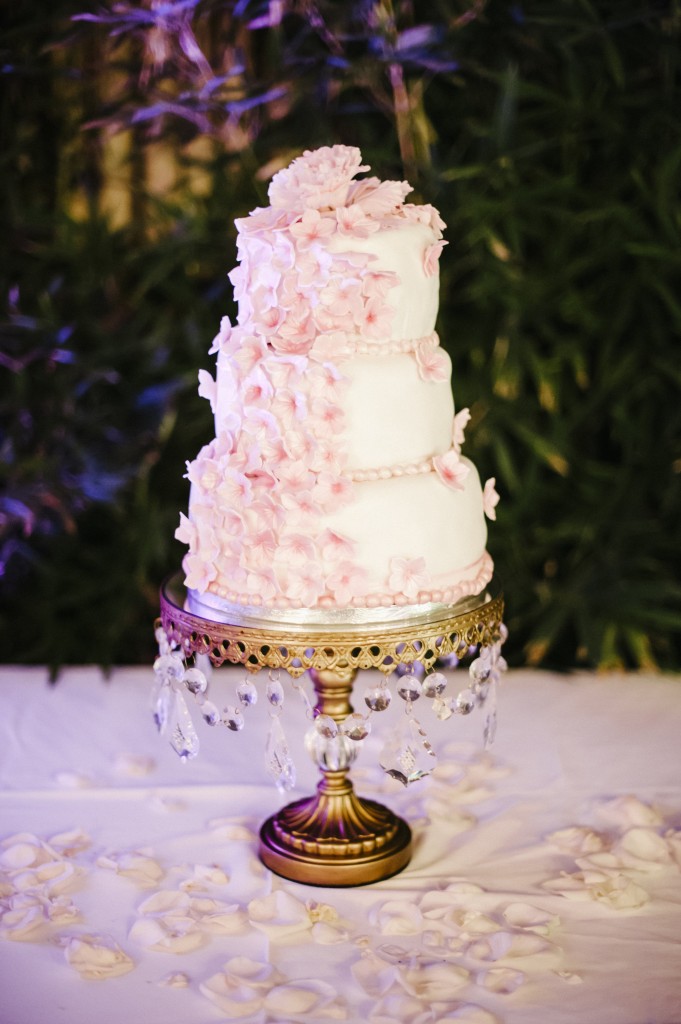 This August wedding, held at incredible Babylon Beach, was a complete surprise for the bride! The groom had us plan everything in advance, down to the last details of the flowers in her bouquet, and the colour of the cake. He proposed to her on the morning of the wedding at lovely La Paloma, and guests arrived to Babylon later that evening to celebrate with them. We love the design of the cake and the stand, this one had a vanilla filling (sweet Eileen does make the best ones), and there are so many other delicious flavours to choose from!
There are so many other moments that we want to share with you, and we are sure that there will be very exciting things to come in the future! Until next time…