This little island in the middle of the Mediterranean gets over 300 days of sunshine a year – lucky us! – but as June rolls around, there is no better time to hit the beach! What's not to love about palm trees, ocean breeze, salty air, sun kissed hair and with the temperature on the rise…the feeling of endless summer. It is truly a magical time of year! 
Ibiza has something for everyone, whatever your taste. Crashing waves, Caribbean waters, people watching or more secretive and secluded. Some of us prefer pebbly beaches while others like miles of sand to squish between their toes. Some want to bring the party to the beach while others prefer family vibes with lots of activities. If you're wondering what beach to hit this weekend and where to wear your new trunks or bikini, have a read – this is our signature beach guide!
In The Action 
Las Salinas
Gorgeous, iconic, famous and fun are all worlds that can be described Las Salinas beach. Super easy to access, the beach is a 15 minute drive from Ibiza town, has plenty of parking and as you will see is dotted with various chiringuitos (read: beach bars) along its sandy shores. The water is a beautiful azure blue and is waist deep for at least 50 metres – so you can spend the afternoon splashing away or in the mix with a mojito in hand. It's never a dull moment on Las Salinas as beautiful girls parade up and down the beach promoting various night club events!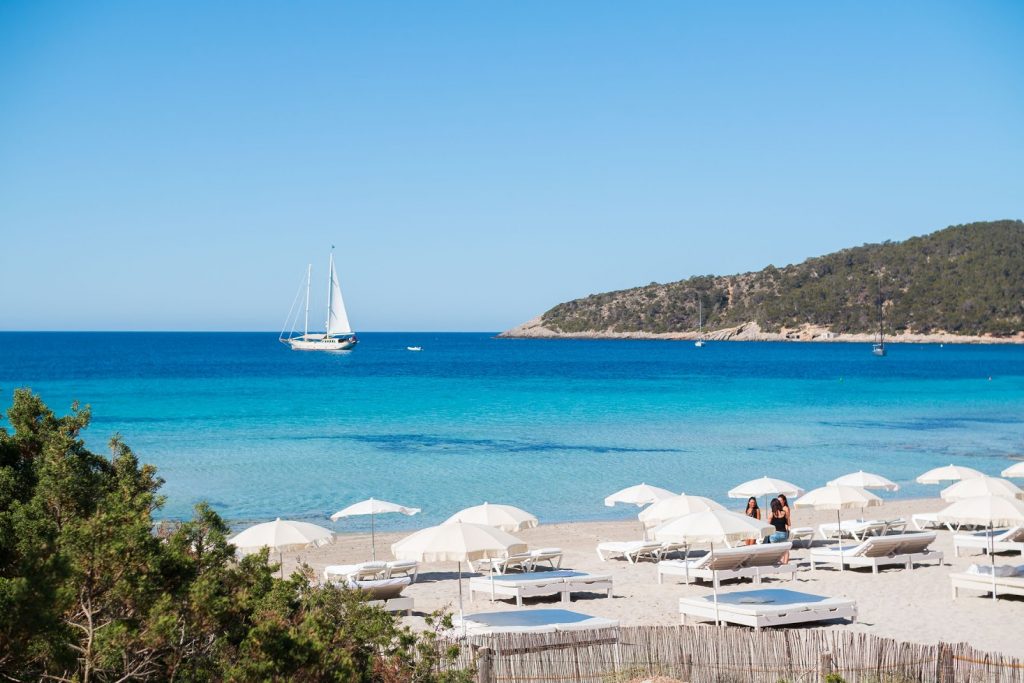 One of our favourite chiringuitos; Jockey Club, open for breakfast and lunch every day.
Playa d'en Bossa
Even closer to Ibiza town, the bay of Playa d'en Bossa is where to beach and be seen. The sparkling turquoise water is always shallow, calm and clear yet the golden sand strip is dotted with numerous fresh seafood shacks and gorgeous cafés and beach clubs. It's alive with the jet set, sun worshippers, and trendy fashionistas and beats of Balearic house travel through the air. If you're looking to enjoy the sunshine and be where all the action is Playa den Bossa is waiting…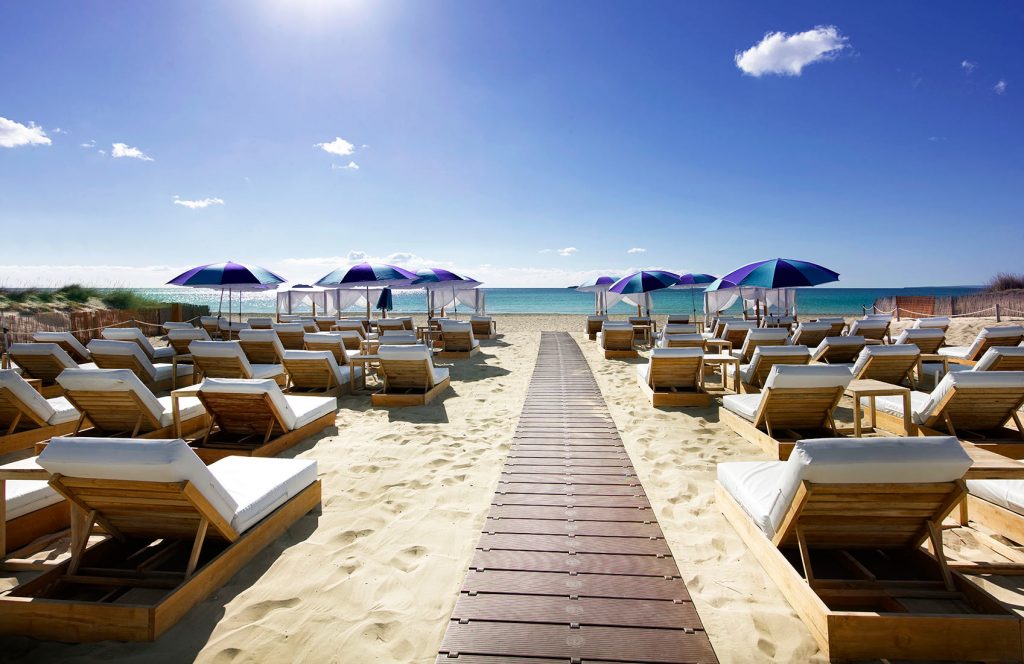 The Beach Club at Hard Rock Hotel, located in the middle of Playa d'en Bossa
Es Cavallet
One of Ibiza's nudist and gay-friendly beaches, this strip of sand next to the sea is absolutely breathtaking. Also close to Ibiza town, this beach features beach clubs and lunch restaurants peppering its shoreline. Catch rays, taste paella, sip mojitos and dance the sun into the sea – you can really have it all.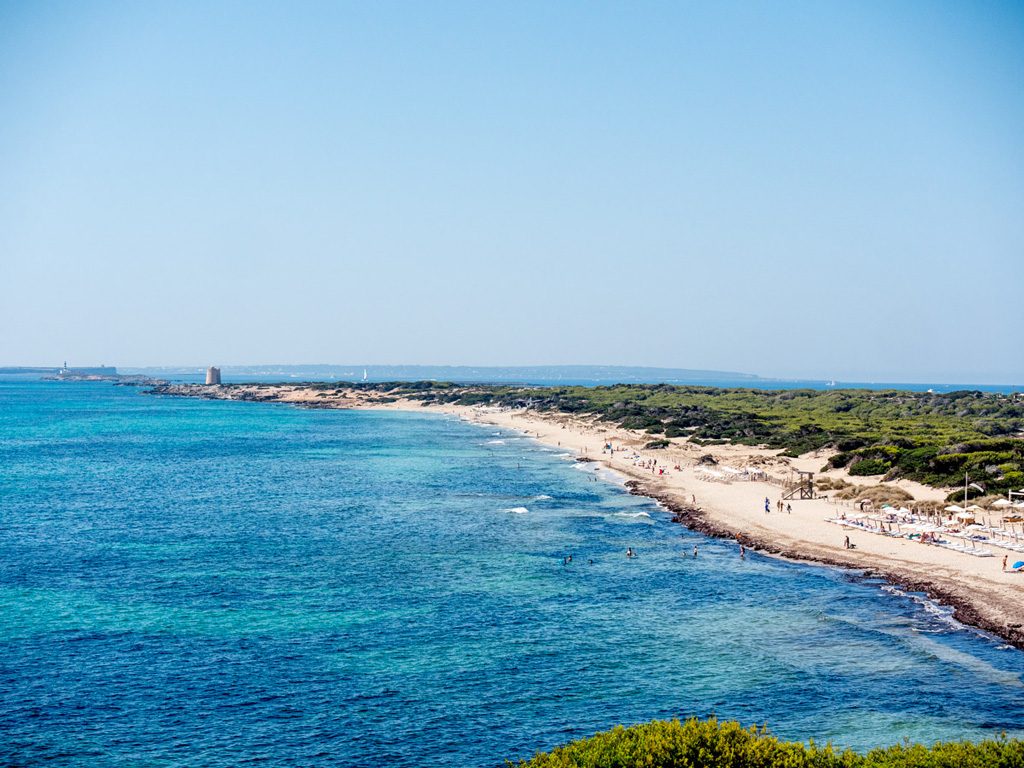 View of Es Cavellet from above, including one of our favourite beach restaurants on the island; El Chiringuito
Family Friendly 
Cala Conta
It's post card beautiful, iconic and of course comes with gorgeous views of the sea and beyond – it's easy to see why people return, fill up and call Cala Conta their favourite beach, year after year in Ibiza. You can opt for your own private cove, you can set up shop in one of the many areas perfect for beach towels and blankets or you can lunch at one of the delicious restaurants that sit above the beach on the cliff. It's diverse, multicultural and safe and perfect for a day of family fun in the sun.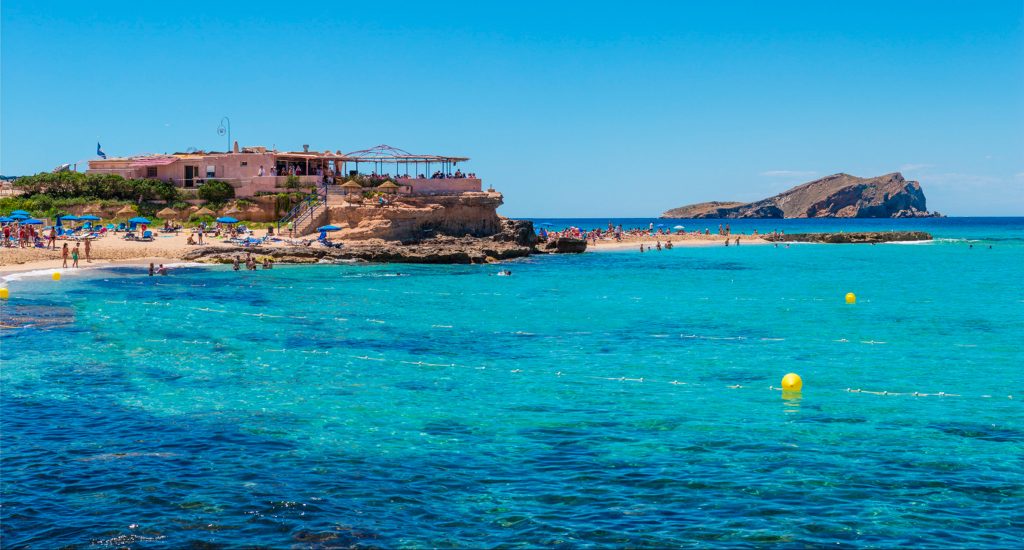 Turquoise sea surrounding Cala Conta with the best sunset spot on the island; Sunset Ashram overlooking the beach
Cala Bassa
Another popular beach for families – the sand is soft, the water is clear and the bay is full of all sorts of activities for the kids. Parents can kick back and enjoy a Mediterranean lunch while the little ones are looked after and learn water sports. Jet skis, boats and stand up paddle boarding are all options while laying under the gorgeous sunshine enjoying a tasty picnic with friends and family. Rumour has it that this is the spot for cliff jumping but we didn't say anything!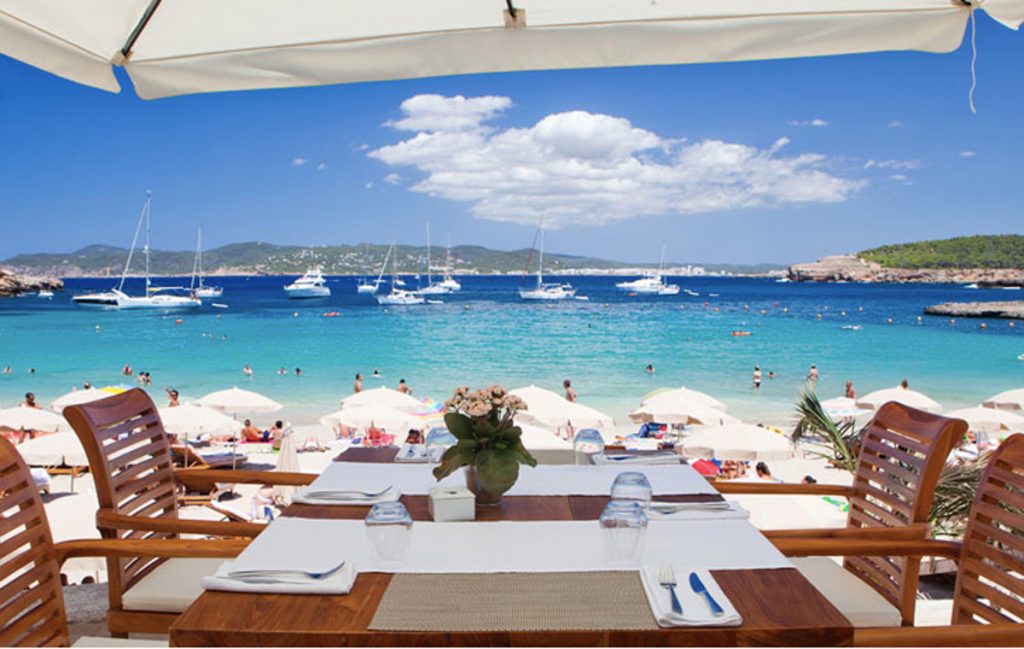 View of the bay from Cala Bassa Beach Club
Benirras
Experiencing Benirras is a must! Not only is the drive just as exciting as the beach – for its windy roads through the northern hills of the island make you feel like you are truly adventuring through the deep green pine forest until you pop out onto a calm bay that is engulfed by raw nature and boasts some of the best sunset views on the island. Of course, Benirras is famous to island residents and holidaymakers alike because each Sunday hippies from all four corners of the island descend to drum the sun into the sea. Hand drums, bongos and dancers perform and celebrate life while spectators join in and dance their hearts out – a truly unique experience!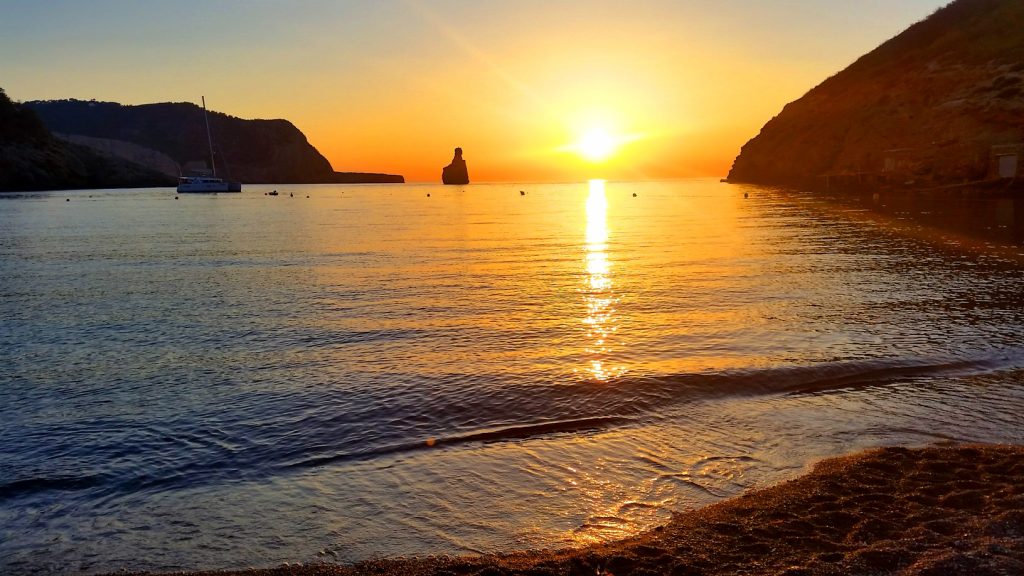 The Finger of God standing proudly in the centre of Benirras bay
For the Adventurers
Punta Galera
Truly unique and different in its own way – Punta Galera is famous for its flat 'pancake' like stone formations that jet out of the sea on the islands north-west coat. At this beach you'll see snorkelers coming up for air off the coast, families wading in the shallow rock pools and groups of friends taking in sun and drying off on the flat rocks that make up this beach. A definite must.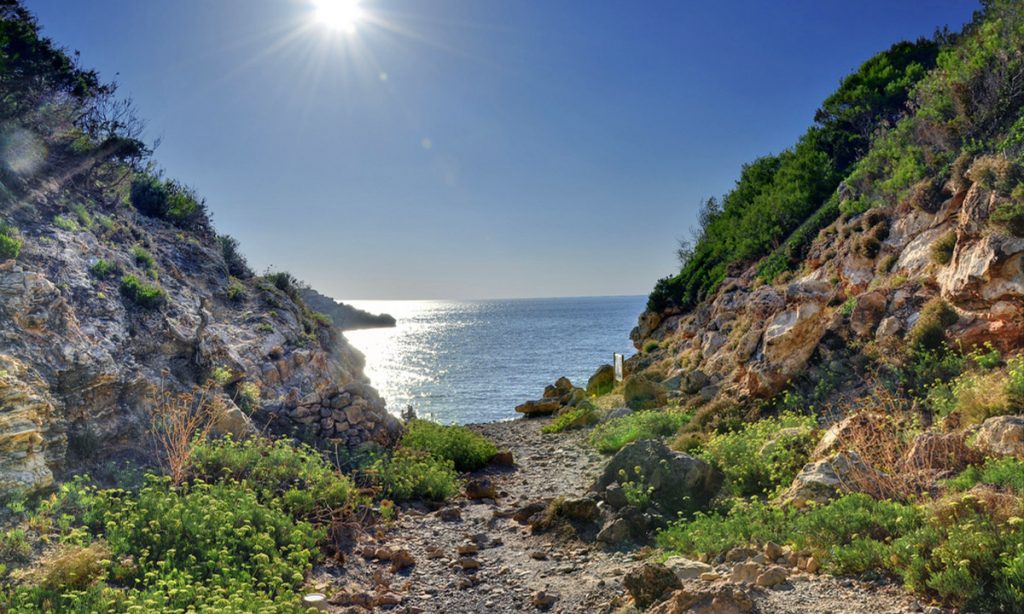 One of the more hidden trails leading through to the cliffs of Punta Galera
Atlantis
Legend has it this rocky and secretive area used to be a civilisation or a 'city' surrounding Es Vedra. This trek is for the adventurous, as the hike down to the 'lost city' requires the more persistent of beachgoers. No signs, no clues, no directions – it is only for those who seek it out. If you're one of the lucky ones who reaches Atlantis, you'll see different caves, artwork and symbols on the walls, rock formations and gorgeous, crashing azure blue waves. It is a site to see…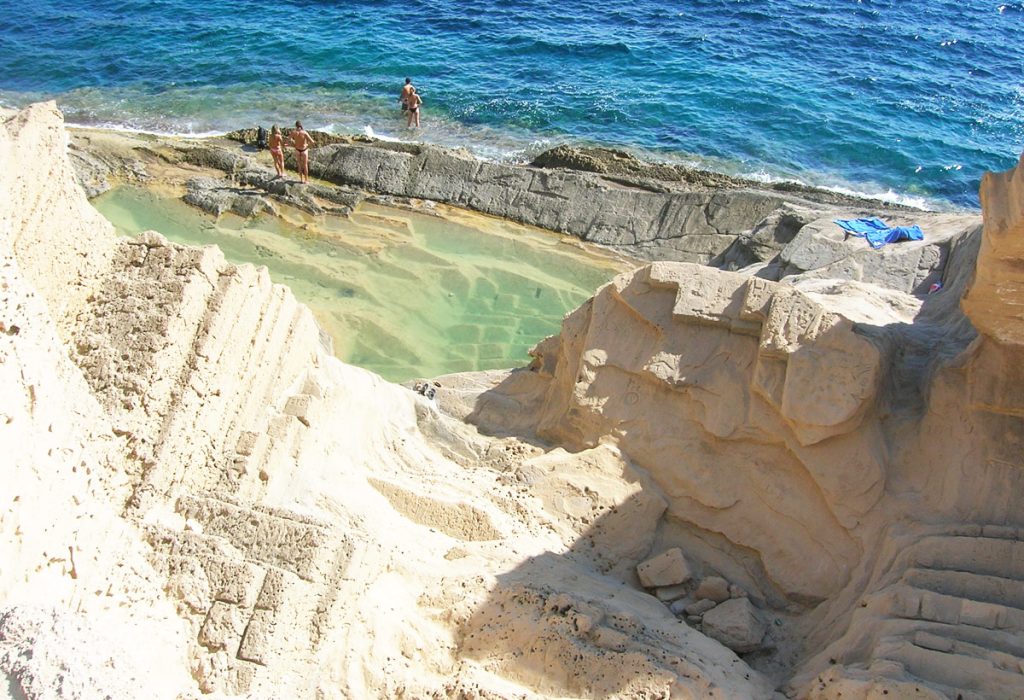 The amazing patterns and landscape of Atlantis
Cala des Moltons
Located in the north of Ibiza, this little piece of paradise is just that – a slice of heaven that only few find and adventure too. Located next to more popular beach San Miguel, it takes a little bit of a hike to arrive but upon arrival you are instantly transported away from the hustle and bustle that comes from the island's tourism. The cove is small and quaint, but offers breathtaking views of the Med, gentle lapping of the waves…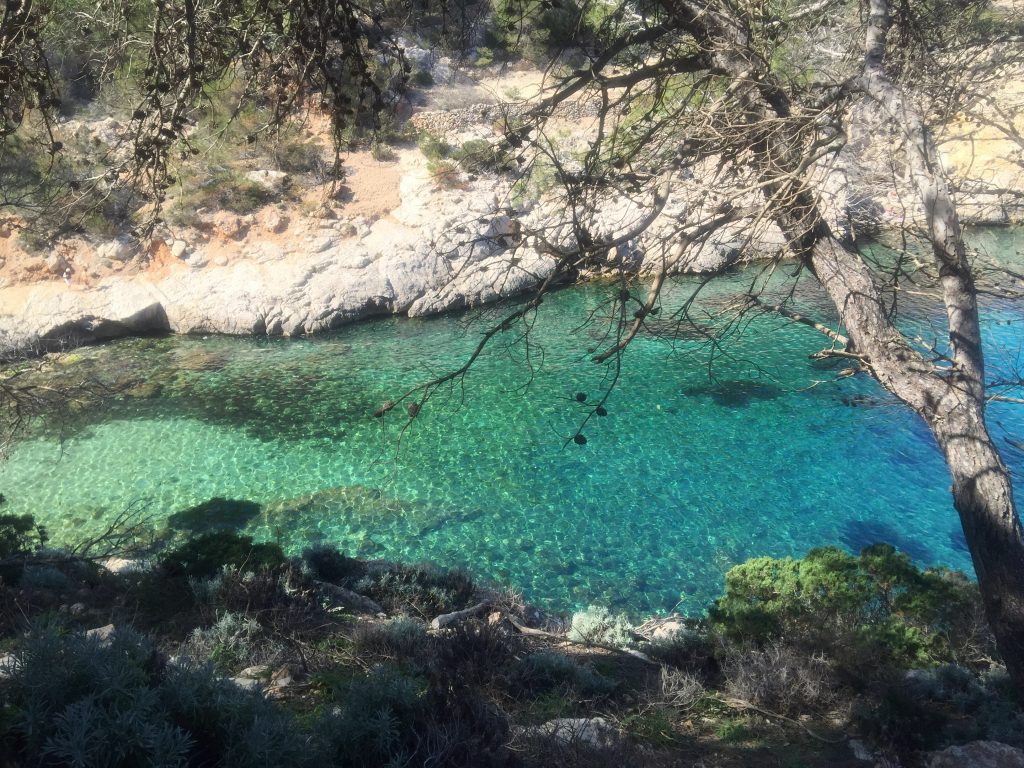 Crystal clear waters waiting after a short hike around the hill to get to Cala D'es Moltons
For more beach recommendations near you, download our very own Deliciously Sorted App here: