Last Saturday, we did something we've never done before: we went to a cooking class! We got up in the morning at 10am (which is early for us on a Saturday!), got ready, and headed off to the Can Mussona Farm just outside San Carlos. We had no idea what lied ahead of us…
The sun was shining when we arrived, and we immediately took a stroll amongst all of the veggies and soon found our way to the pigs and their piglets, adorable!! We then gathered and started off with a quick cava tasting. The day's theme was Valentine's and we really hope that the boys are taking notes of this! We mixed the cava with two different syrups, one rhubarb syrup (delicious!) and one elderflower syrup (yum!). You don't have to make these syrups yourself – you can buy them in the English supermarkets in Santa Eulalia or San Antonio.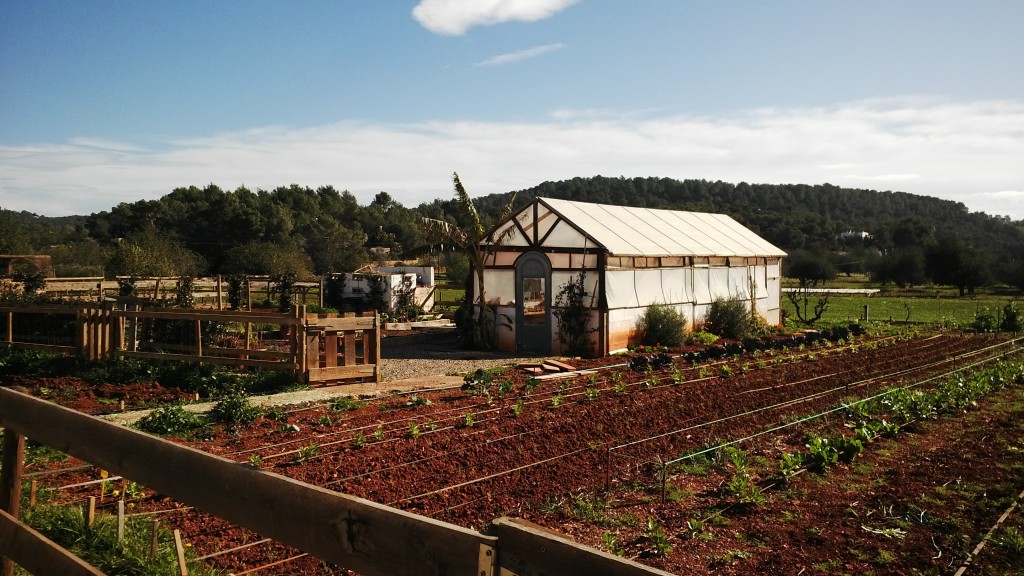 We moved inside and began the cooking portion of the day (well kind of!). First off we got our hands on some delicious looking strawberries, covered half of each strawberry in melted chocolate (half milk/half dark – Lindt preferably), put them on a baking paper and in the fridge. Super easy and very romantic!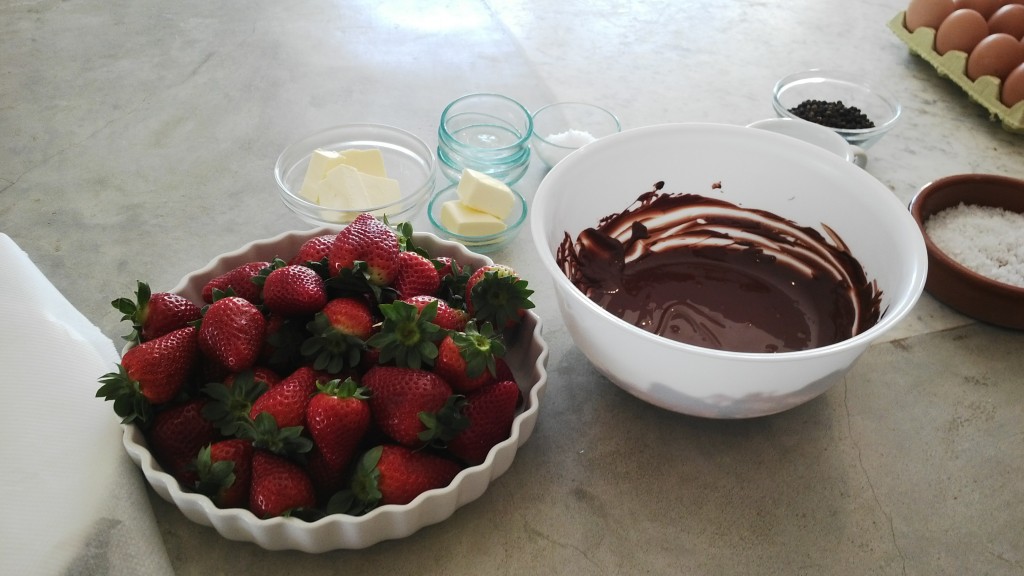 Our Valentine's Day menu featured fillet of beef steak with pepper sauce, served with home made, double fried chips and béarnaise sauce. For dessert – Passion Fruit Soufflé! We started off with the béarnaise sauce as this needs to cool down a bit before you serve it. The clarified butter and vinegar/tarragon mix had already been prepared for us (phew!) so all we had to do was to add the egg yolks to the vinegar/tarragon mix, and whisk it over a pot of boiling water for about 10 minutes. Once the mix got fluffy, we took it off the stove, added the clarified butter (slowly!) while still whisking the mix. Added some salt and there you go!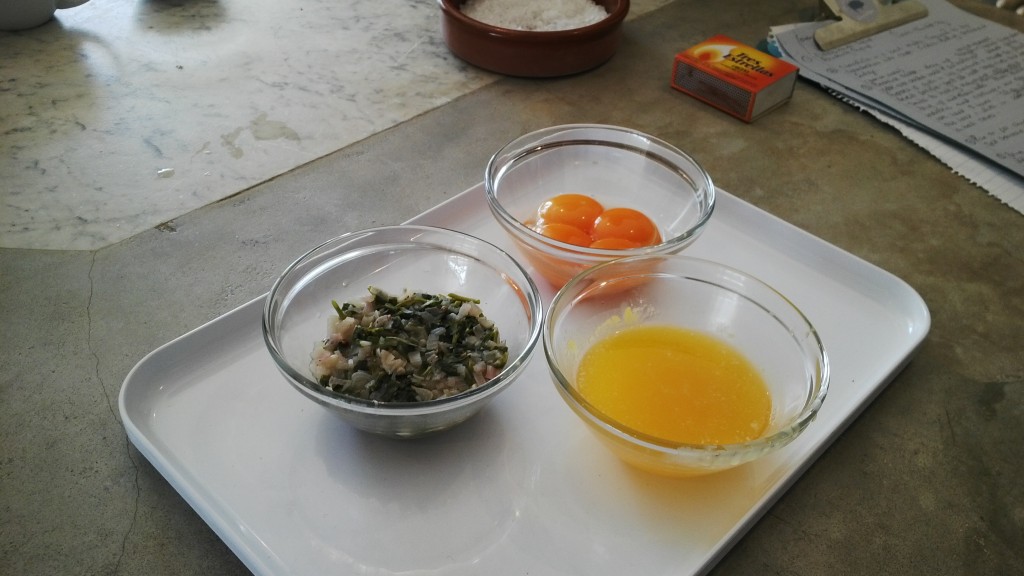 We moved on to the steaks (which we couldn't wait to dig into)! We were presented with a really nice cut from a solomillo (fillet of beef), which we covered in ground pepper on all sides. We put these on a frying pan in a mix of butter and olive oil (yum!). Depending on how you like your steak cooked, you'll need to leave it in the pan a certain amount of time. We left it around 4 minutes on each side for a medium cooked steak – perfect!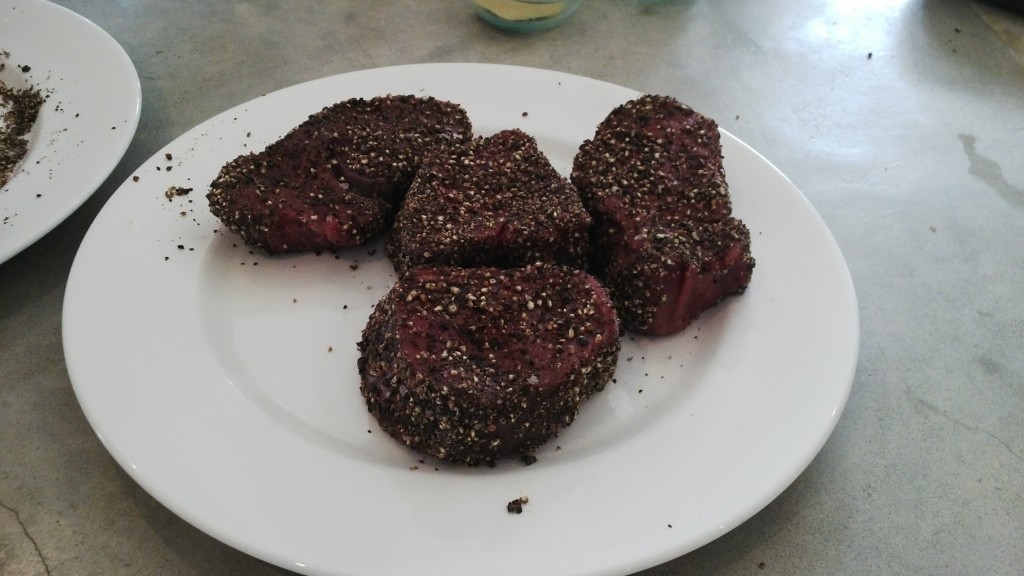 After this we had to make the pepper sauce, flambeed. We added a bit of brandy to the frying pan (in the same pan that you cooked the steak), set it on fire (!!!), added cream, some more pepper and done! Most delicious pepper sauce we've ever tasted!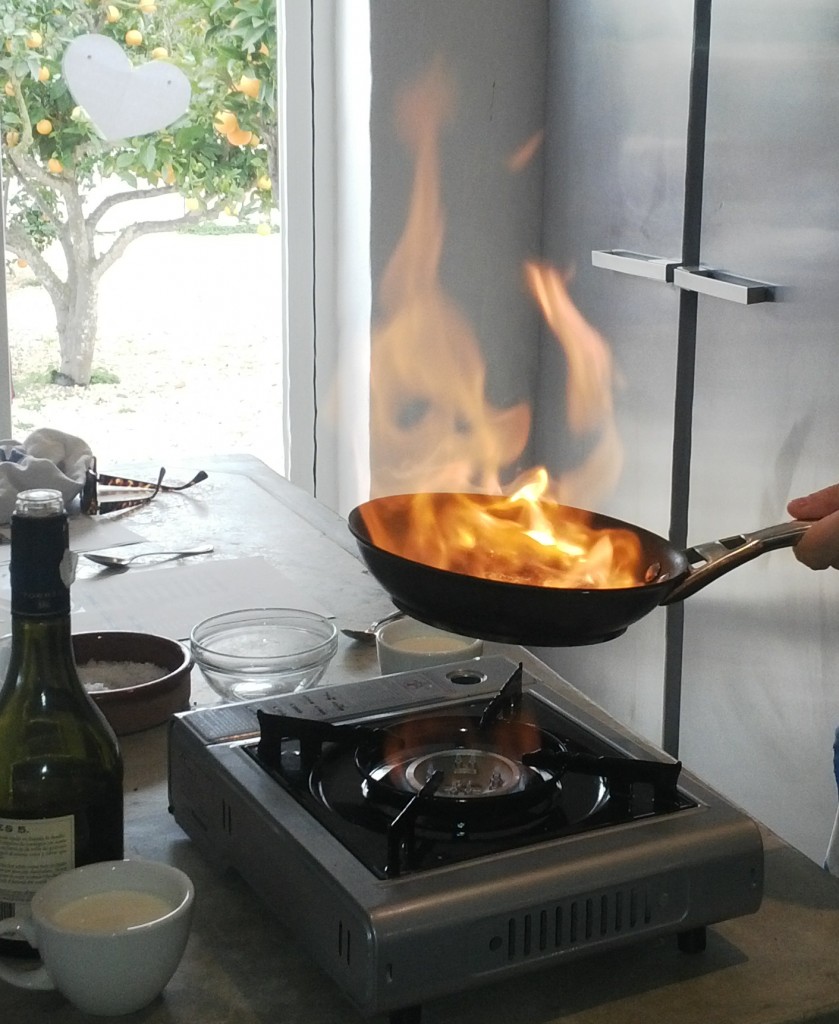 The chips had been cooking in the meantime, so we were about ready to sit down and taste our master pieces! We could not imagine it would turn out so great. We will definitely try (!) to make this again at home (maybe not the flambeed pepper sauce though..)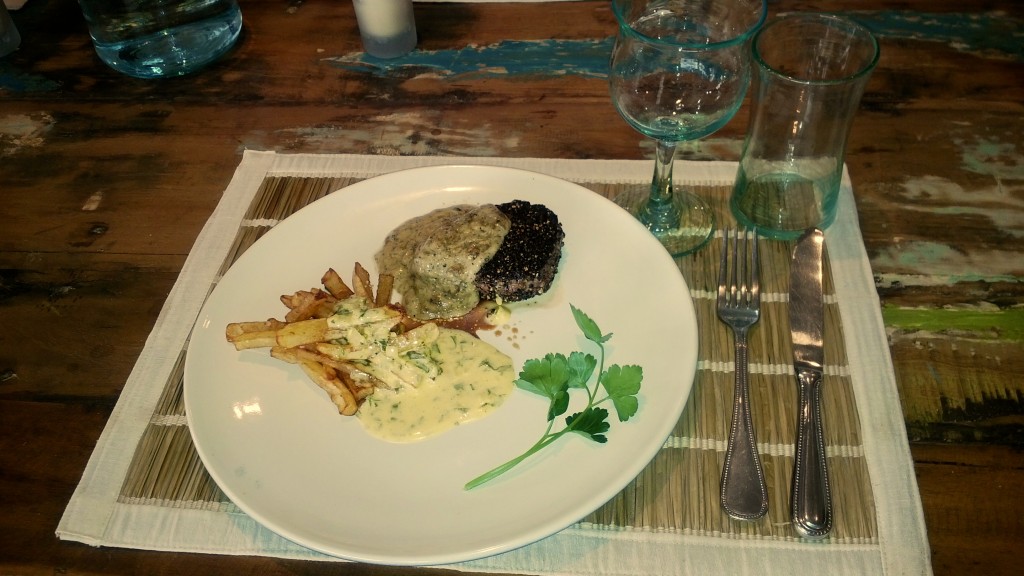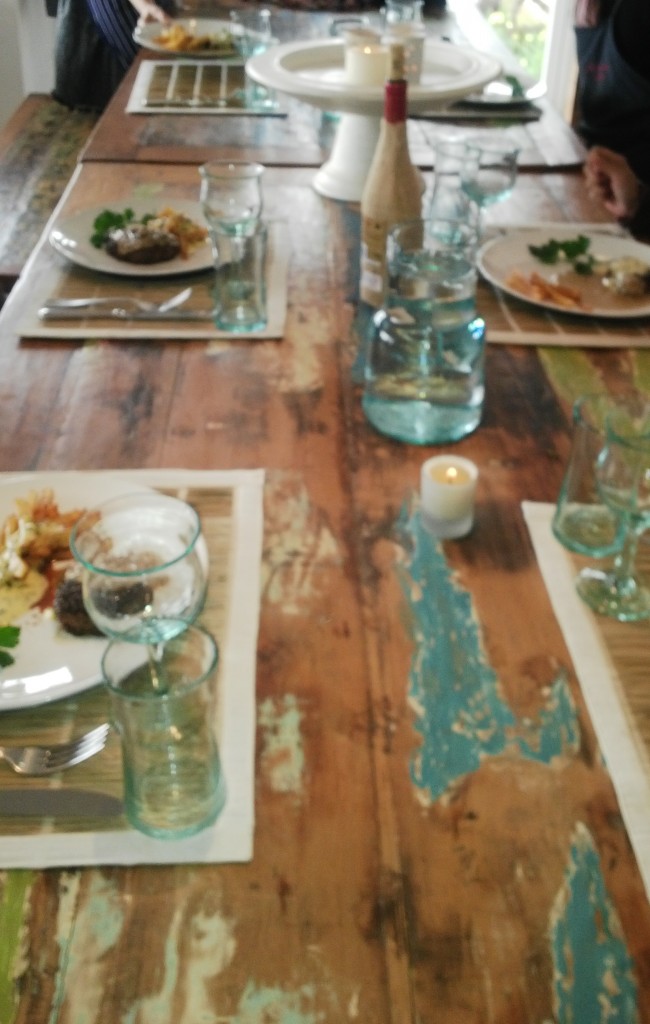 For dessert, we prepared a Passion Fruit Soufflé. With a home made custard already made, we began by scooping the seeds from the passion fruits and adding them to the custard. We then whisked an egg white stiff – we did turn the bowls upside down over our heads to make sure it was completely done! We folded the whisked egg white into the custard and passion fruit mix and scooped the mixture into a ramekin which had been lined with butter and caster sugar. After having been in the oven for about 8-10 minutes we finally enjoyed our home made dessert together with the chocolate covered strawberries that we prepared earlier. A perfect finish to a great day!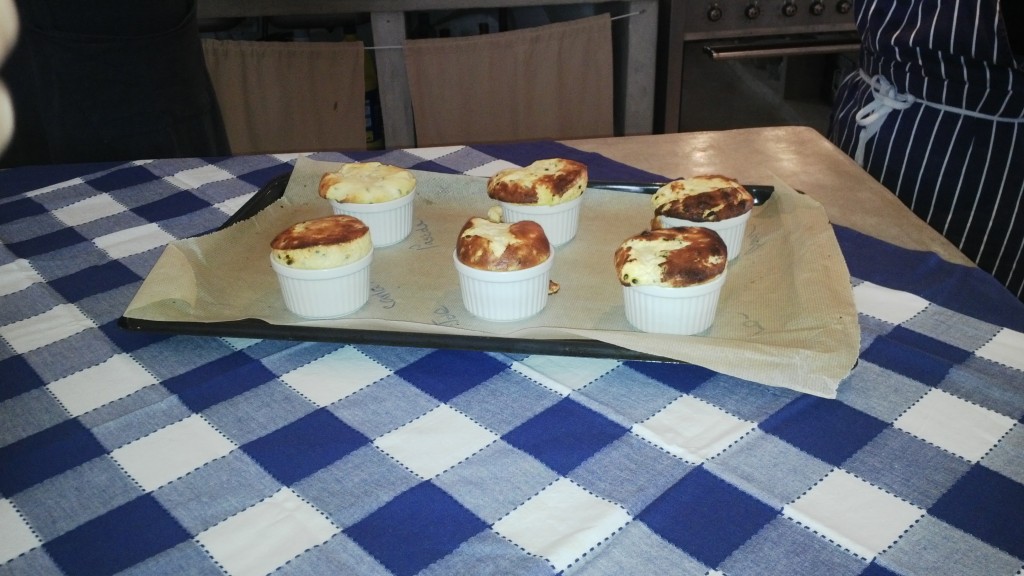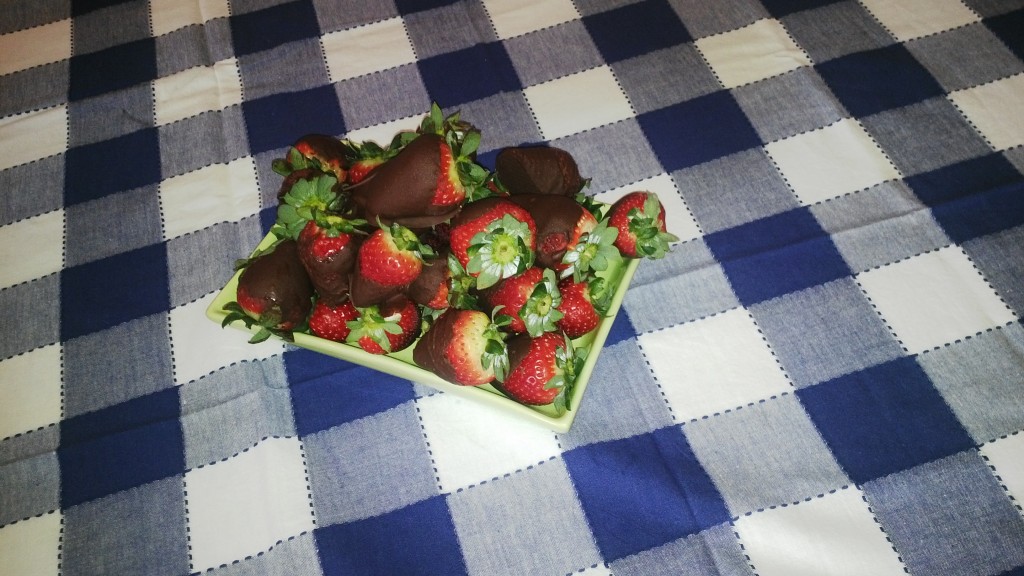 This farm is the first certified organic farm in Ibiza, located just outside of San Carlos. The classes are hosted by Louise Gould, long term Ibiza resident and cordon bleu trained chef. Together with Babylon Beach who are facilitating these classes, she will teach you how to make delicious home-made dishes in a super easy and fun way.
If you want more information about the cooking classes at Can Mussona or if you found our description of the food so tempting that you would like to try it yourself – contact us for the details and recipes:
info@deliciouslysortedibiza.com
+34 971 197 867
We are definitely looking forward to Valentine's Day now – tomorrow we will have another blog post for you with our perfect Valentine's Day (and weekend!) line up… until then xxx