Although Ibiza's culinary scene has skyrocketed into the gourmet gastronomic stratosphere in recent years, we are aware that certain authentic Ibiza spots where one can enjoy locally caught fish and home-made hierbas on the beach, ultimately transcend any fleeting 5-star joint. When in search of places that are truly infused with the essence of this magical island, chiringuitos would be our first port of call! Read on to find out about the most charming chiringuitos on the island…
CHIRINGUITO AGUAS BLANCAS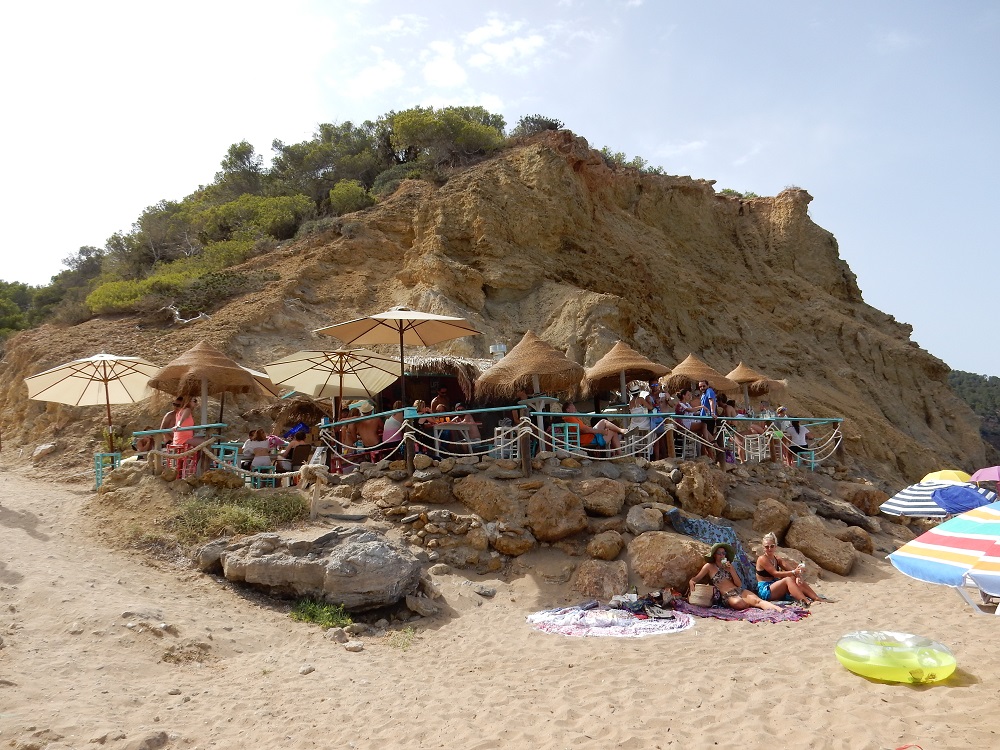 This chiringuito is one of our top spots on the island with perfect views, great music and a super friendly vibe. As well as being located on an utterly stunning beach with white sands and blue waters as the name suggests, it also has the most fantastic fresh orange/carrot juice, bocadillos (sandwiches) and of course mojitos to go with the gorgeous sunset that you can enjoy from the chiringuito. We would also recommend taking your drink down to the beach and burying your feet in the sand with cocktail in hand…
CHIRINGUITO XUCLAR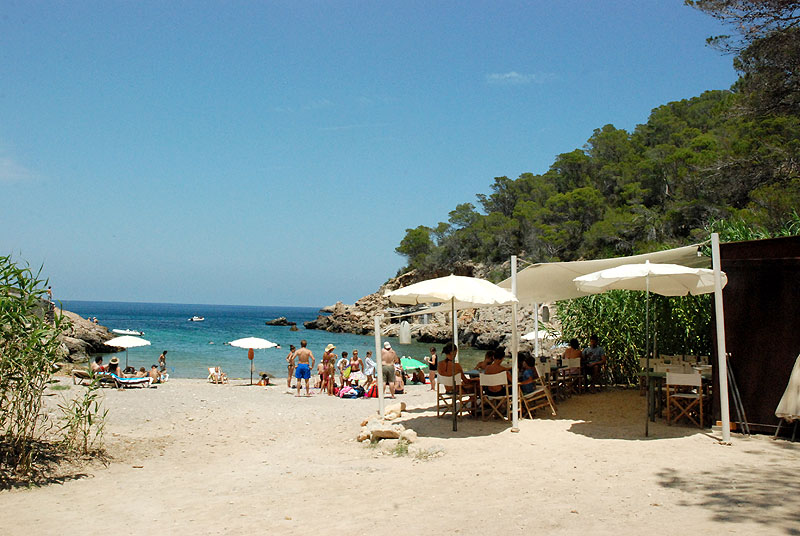 Xuclar will forever be one of the ultimate local hotspots on the island with residents coming here all year around for its unparalleled waters (perfect for snorkelling) and the fabulous chiringuito. This chiringuito is perhaps one of the more chic ones on the island whilst also retaining a thoroughly authentic atmosphere compatible with the beach vibe. We would recommend trying the fresh fish as well as the goats cheese salad here, washed down with a glass of light rosé – utterly delicious!
EL BIGOTE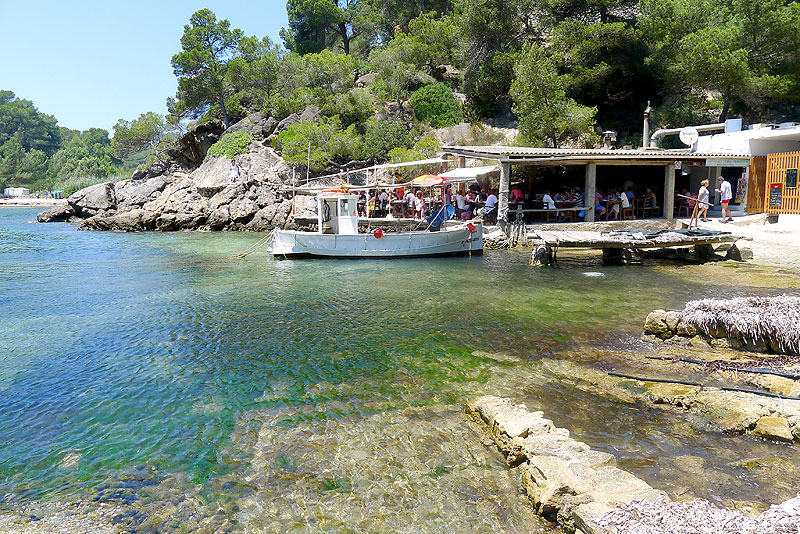 El Bigote is truly a charming chiringuito and is one of the original and unforgettable establishments on the island, situated on the shores of the one and only Cala Mastella. Bigotes boasts a menu of fresh fish and rice with a wood fire with its famous Bullit de Peix dish, although simple we think that this simplicity only adds to its charm – quality not quantity! This rustic beach bar by the sea is perfect to visit for long lazy afternoon lunches with friends or family and we also adore the proximity to the sea and beach as well as the picturesque views across the magical Mediterranean whilst dining, though there is a no reservation policy – first come first served!
CHIRINGUITO CALA ESCONDIDA
Cala Escondida is located on the shores of Cala Comte where one can listen to the sounds of the waves, the breeze and the ice of mojitos clinking as people drink in the view along with their beverage. This place stands out for its balanced and welcoming design, and its sustainable and self-sufficient spirit, generating its own energy through solar panels. This is a place where hours pass like minutes, sporting a modest but tasty menu with various dishes born from organic home cooking, we particularly enjoy the falafel wraps!
THE FISH SHACK
At the end of Talamanca beach (near Ibiza town), in the spot known as Sa Punta, is a typical beach chiringuito with little decorative or culinary ostentation, their only concern is to serve the best fish possible and we respect this ethic. This is the Fish Shack, situated on a rocky surface just next to the beach, it is a calm place with phenomenal views of the fortified city of Dalt Vila. Word of mouth has made it a hot spot with a cosmopolitan atmosphere, in which you will see tourists from all around the world as well as local people, all the fish is locally caught and the menu stays the same almost every day, served with fresh salad and the most delicious potatoes!
UTOPIA
Utopia is a 'beautiful little restaurant in a fantastic, picturesque setting'. Located on Cala Moltons, the secluded beach next to Sant Miquel, this beach is surrounded by cliffs and pine trees and as you cannot park right by the beach it is never overcrowded. This honest little restaurant serves delicious seafood in a 'wonderfully secluded setting', playing chilled and unpretentious music with simple but tasteful decor. Furthermore, if you're planning to stay past lunch, treat yourself to a sun-lounger!
We hope this inspires you to indulge in the more authentic culinary scene of Ibiza and we wish you a wonderful week from Deliciously Sorted!