When you think of Ibiza villas you either think Modern Luxury Villa or you think Traditional Finca. Combining both is a rare find however after being abandoned for decades to the ravages of nature, and now lovingly restored to its former glory, Fincadelica does this effortlessly. A traditional 300-year-old finca offering 9 luxuriously comfortable en-suites, a salt water pool and its own  cave.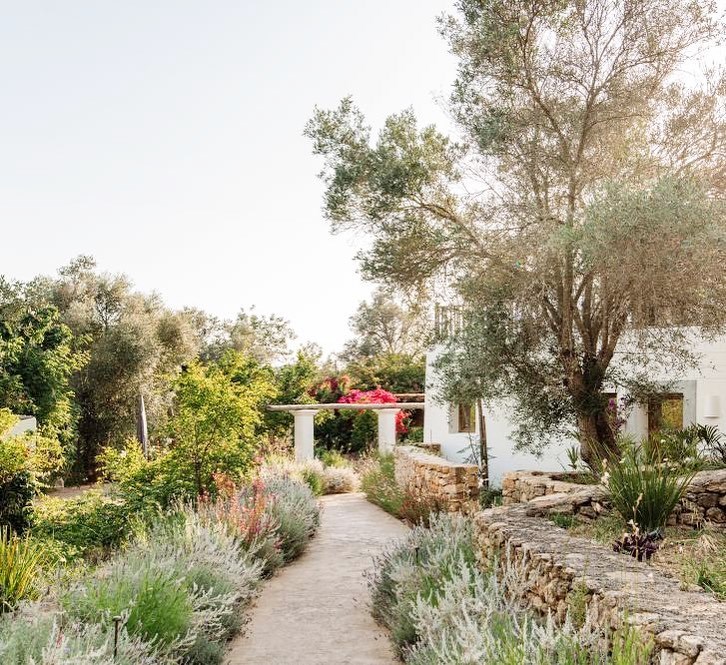 Finca Arrival 
The camino twists and turns, climbing higher as it winds its way through the forest. Native trees cluster beneath the ancient terraces – carob, almond, orange – their sweet fruit and flowers scenting the hazy summer air. The house is traditional 300-year-old finca – one of Ibiza's grandest – set amid twenty acres of sprawling grounds with far-reaching views across the island. This historic estate is secluded and tranquil hidden in the northern heartlands of San Lorenzo.
Inside 
The Finca has a soaring living space featuring double-height ceilings, metre thick stone walls and traditional Sabina beams.  Floor to ceiling windows flood the space with light.  A huge pine dinning table seats 18 guests on playful psychedelic chairs ideal for family breakfasts or glorious dinner parties with friends.

The Rooms 
The property features nine capacious bedroom suites. Many featuring calming earthy palettes, layered with natural fibres, butter soft linens and fluffy knits, look out for Juliette balconies, striped sabina ceilings and a private tower with a king sized circle bed. The casita offers a more contemporary 2 bedroom suite with floor to ceiling glass doors and it's own private garden.

Outside 
Fincadelica offers an array of spectacular outdoor living and dining spaces and a vast saltwater swimming pool, along with dedicated fitness and wellness areas. If you explore the strawberry lined pathways a little further, you may also discover a handmade Lakota teepee, a Mongolian yurt, and maybe even Noah's Arc.

The Finca Vibe 
Interiors are tactile, luxurious, eclectic, with a nod to the 1970s by way of natural textures iconic design pieces and a warm earthy palette. Art and antiques take center stage influenced by the finca's colourful owners a trio of global nomads who have found home on Ibiza's countercultural paradise.

Farm to Table 
Fincadelica puts great emphasis on sustainability and slow living. Guests are encouraged to retreat, to reset and to honour the estate's connection to Mother Nature. To eat from the gardens and worship the sun.
To book Fincadelica please fill in the form below.