Formentera is one of our favourite places in the world. A hop skip and a jump (or should we say a gorgeous sleek motorboat away) from Ibiza. This magical island is not affected by the club closures of Ibiza, as Formentera has always been more about live music, outdoor dining, and long lazy days than partying, so there really is no reason not to go this year! 
Can Carlitos
Perfectly positioned in the port for day trips or gorgeous views of sunset behind Es Vedra due to its west facing spot, serving dishes which are a perfect balance between quality traditional cooking and modern cuisine. The chef prides himself on his ability to work with local produce upholding a garden to plate ethos. This ensures local and seasonal produce is always on the menu at our beloved Can Carlitos.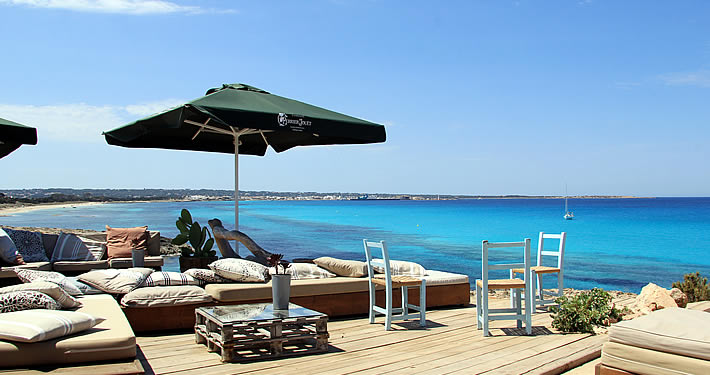 Es Moli del Sal
Be it lunch or a sunset dinner this is one of our top Formentera restaurant picks. An old mill belonging to the old salt industry of Formentera which has been exquisitely renovated, serving a menu of the best typical dishes of Formentera and Mediterranean cuisine. Unique views of Illetas beach on the one hand and La Savina port, on the other hand, makes this is a very special place. 
Beso Beach
Located in the picturesque Ses Salines natural park. At Beso Beach they are dedicated to merging Mediterranean cuisine with Basque nuances, producing an authentic and pure flavour across the menu. The most low key of all the Illetas offerings after second service the tables are cleared for dancing in the sand mojitos in hand.  Expect white sand, crystal clear water, and real pirates. 
Juan y Andrea
The classic Formentera restaurant since 1971. Arriving by boat to Juan Y Andrea is one the highlights of our summer – looking out for the 4 iconic palm trees, being collected by the tender to take you to the shore, then sinking your toes into the sand and walking up the boardwalk to what you know is one of the best paellas in the world, all with THAT view.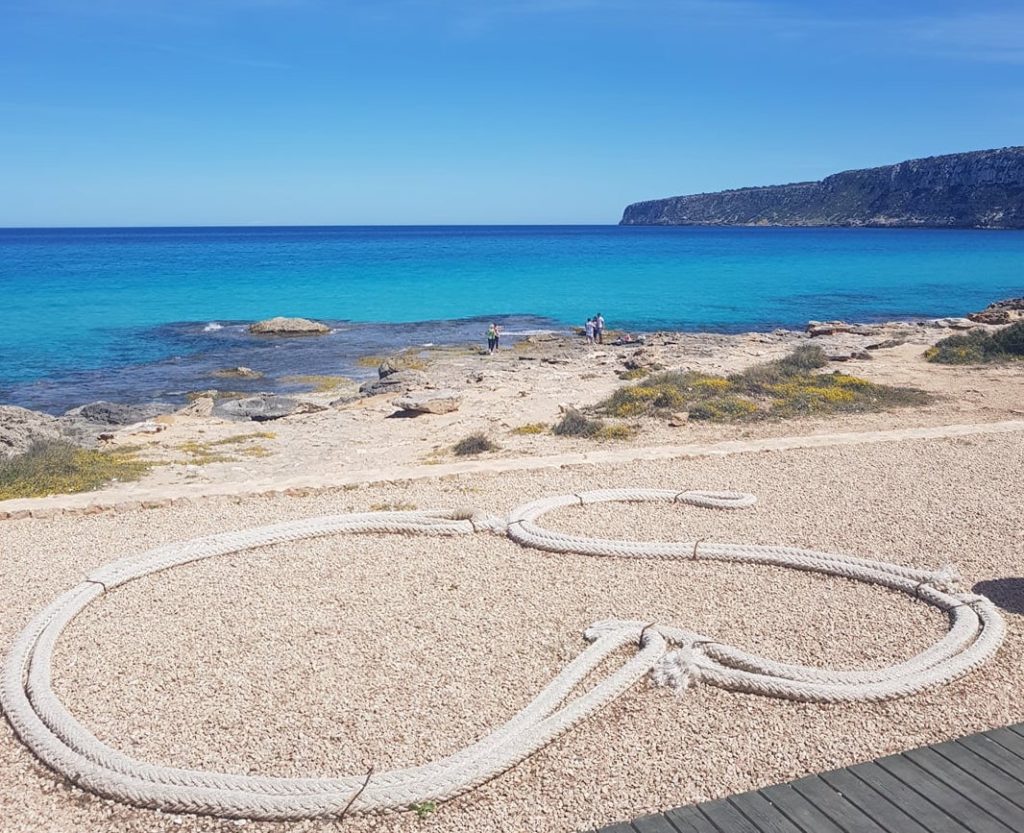 Es Calo
The restaurant by the beautiful bay of Es Calo has the most delectable menu of fresh seafood, famed for its authentic black rice paella or lobster with chips and fried eggs! This place is the perfect pairing between landscape and gastronomy. 
10.7
Oh, the views! Tucked away on the stunning Playa de Migjorn beach you will find 10.7 Restaurant. Merging pasta and Japanese a lunch spot with a difference. An Italian friend says they serve the best pasta pesto on the island – we love the Vongole!
Lucky Bar
Overlooking Playa de Migjorn you will find Lucky Bar a great spot for lovely fresh burgers, jugs of iced Sangria and cold beers. All whilst sinking your toes into the soft white sand and gazing out to sea.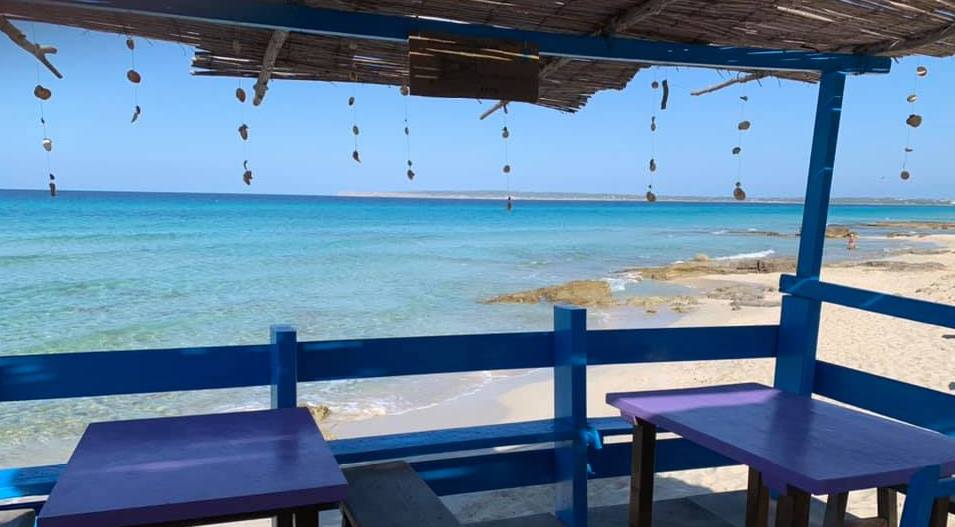 Bartolos Chiringuito
It is worth a gorgeous walk along Calo D'es Mort to discover this iconic blue painted wooden chiringuito. Surrounded by simple handmade shell decorations, many of which have messages of love from people from across the world. This tiny little haven is a magical find. With room for just a few guests, it serves the most delicious sardines you will find. 
Chezz Gerrdi
The beautiful landscape, the great cuisine, the music and the attention to detail, all combine to a wonderful dining experience. Using the best Italian, Spanish and island ingredients, Chezz Gerdi create sensational dishes that are traditional but with surprising creativity.
Piratabus
If you are looking for mojitos and tapas then you must head to Piratabus at sunset on Playa de Migjorn. With a guaranteed happy, chilled, and friendly atmosphere it really is an authentic Formentera hangout.
Vogamari
Simple good food served in a great location with friendly service. What more could you want whilst sitting on one of the most magical beaches in the world? We highly recommend the black rice Paella and Arroz Abanda.
Blue Bar
Famous for its concerts, live music and vibrant atmosphere The Blue Bar is an iconic Formenterra institution. Quirky, bursting with character and situated immediately on Platja Migjorn this is a great restaurant with a fantastic menu of traditional Mediterranean food.
Can Carlos
Where more authentic to dine than in the courtyard of a traditional farmhouse surrounded by fairy lights, enjoying the warm evening air, and buzzing atmosphere. Serving high-end Mediterranean cuisine this restaurant is a must.
El Giovale
This lovely Italian restaurant can be found at the entrance of the town of San Francisco. It's a small venue with an amazing reputation for some of the best pasta on the island so arrive early to avoid disappointment.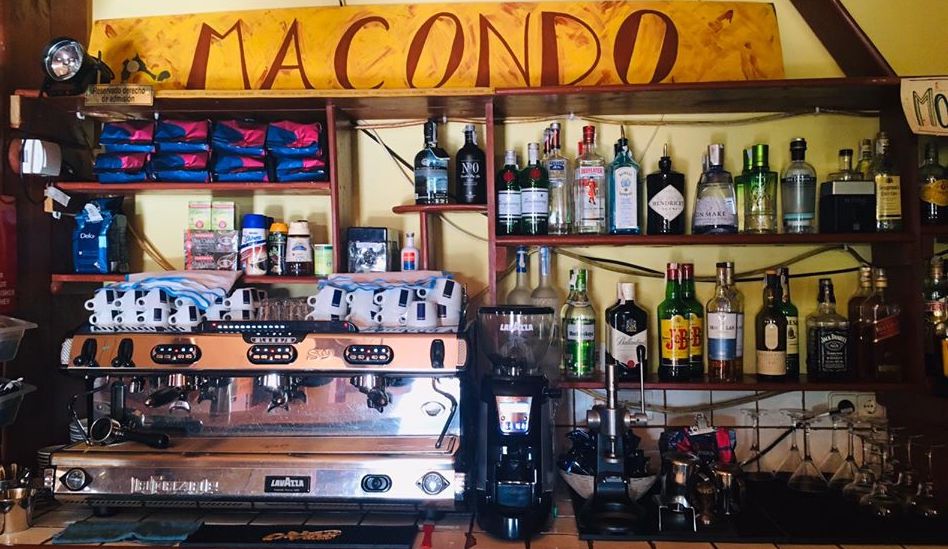 Macondo
If you love Pizza then head to San Ferran to Pizzeria Macondo for fresh homemade Pizza with a wonderful array of toppings to choose from. This place is a real gem.
Cacio e Pepe
In the heart of San Francesc you will find Cacio e Pepe a cozy and charming restaurant, where they serve the best Italian recipes passed on by generations and prepared with the best ingredients from Italy.
If you would like to know which hotels are open or would like us to book you a villa in Formentera please contact us below.